Introducing... CorzSpaZio
It was almost two years ago when I put the bare bones of this thing together, and since then, bit by bit, it's grown up into the best disk space monitor in the known universe. No really.
Maybe it's because I'm always running out of space, but for me, disk space monitoring is
important.
If it's important to you, too, check this out..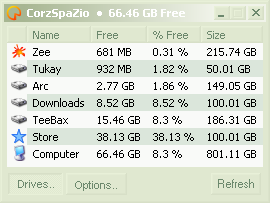 At least, that's how it looks on my desktop. On yours it might look like this..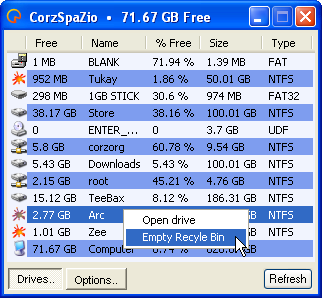 Or even this..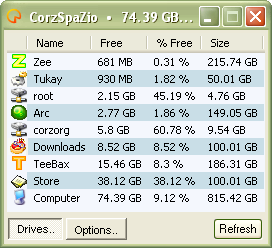 But whatever it might look like, it sure does the job..
Title Bar and System Tray disk space information.
Fully customizable list coloring, including alternate colors.
At-a-glance notification of your biggest cache of space.
Automatic low-space checking, with optional alerts.
Low-space volumes can get special warning icons.
Customizable alert threshold, in GB, MB or % (percentile) form.
Optional number rounding for ultra-small displays.
Get alert emails when space levels reach critical.
Customizable warning icons (load icons from .exe, .dll or .icl files).
Multiple options for skipping certain drives/types.
Direct access to your drives from within the interface.
Empty trashes from the drive's context menu.
Drag & drop audio alert (WAV) import.
System Tray GUI-Activation, with full sensitivity control.
All the controls have handy mouse-over ToolTips.
Column order, size and sort are remembered.
Smart-Window™ dynamic positioning system!
And much more!
Of course I did a page all about it with loads more info, tricks, tips, downloads, etc., so I won't waste any more time and space here. To get to
CorzSpaZio
proper, click the logo..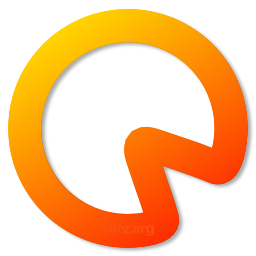 Merry Christmas!
;o)
---