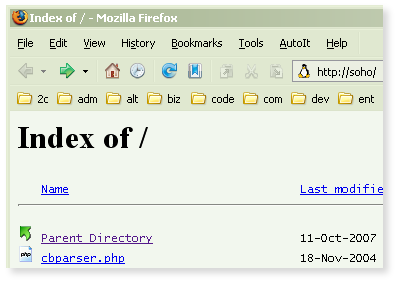 Spoof Domains
step by step..
(apply brakes here)
I was about to create a new
spoof virtual domain
for my LAN, and it occurred to me.. "I should write down the steps I take, save someone else doing it, save time".
So, here goes..
1: Create the fake host..
Every machine you wish to fool, needs to have host entry for your spoofy domain. Let's call this spoof domain "arc". The host file entry would simply be..
192.168.1.100 arc
See
here
for details of how to add hosts to your particular machine.
I have one central hosts file that I import into all the different machines. I find this easier to maintain. A local DNS server is another option (or, as suggested by Druid; add the entry to your local nameserver's hosts file, if you have one).
Typing
arc
into any local browser will now point the it to the Apache server, which will completely ignore the request, until we..
2: Create a virtual host in apache config..
I keep mine in a vhosts.conf file, right next to the httpd.conf (I use an include statement to pull the directives in). The "arc" entry goes something like this..


	<VirtualHost *>
	  ServerName  arc
	  ServerAlias  arc.com arc.org
	  ServerAdmin  corz@corzoogle.com
	  DocumentRoot  "W:/tech/dev"
	  DirectoryIndex  index.html index.php
	  ServerSignature  Email
	</VirtualHost>

Note the aliases, (handy for testing rewrite rules and such). You can add as many aliases as you like, so long as you also create corresponding host entries for each (step 1). Also note, this entry is for a Windows® Apache server; I figured it was about time to do a Windows-orientated article. Really, only the
DocumentRoot
directive is different.
3: Restart apache..
Sadly I don't have the "corzweescriptpack" for windows, although I do have a righteous /unix subtree on my windows box! Aye, I mean emacs, tcsh, ls, tar, the works! That's right! I do
ls
to get directory listings on my peecee! Oh Joy of UNIX!
However, Apache for windows comes with a whole host of useful shortcuts, so restarting's a breeze; apache also installs as a system service, handy. On UNIX/Linux, your usual
apachectl command
will be fine. On Mac OS X, use
corzweescriptpack!
..
ra
We're done!
This is what we get typing
arc
into a web browser
now.
.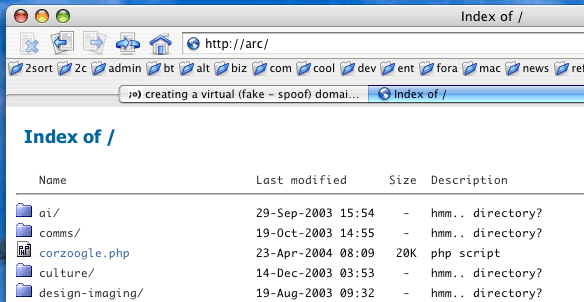 En-joy!
;o)
corz.org