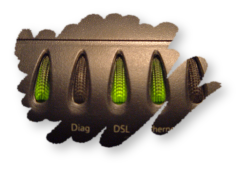 Advanced Viking Voyager Hacking..
Where we get inside the gubbins of the viking based routers;
BT Voyager 205
, of course,
CastleNet AR502
,
Dynalink RTA100
,
RTA500-D51
,
GlobespanVirata
,
Netgear DM602
,
Solwise SAR100 & SAR130
and probably others, and discuss such topics as firmware hacking, telnet scripting, router application building (and testing) without all the noise of folk asking how to get Command And Conquer (whatever that is) to work.
Feel free to help out, offer scripts, applications, beta testing, debate, disagree, suggest, whatever, in the
comments
section, below.
I might put more text here, but really we just needed the breathing space away from the regular comments to cover the more "advanced" topics.. ;o)
corz.org
Useful Links..
Secret Page Selectors..
Telnet may be a superior tool for configuring your router, but your web browser is certainly a much cooler way to
view the results.
Don't forget to bookmark your favourites!