burning HOT disks..
This wee tutorial isn't about how to burn disks, we all know that! No, this is about how to burn
hot
disks. The kind of disks you'll be proud to share. The kind of disks that get people saying..
"You are the DiskMaster!"
Here was my first attempt, a backup disk..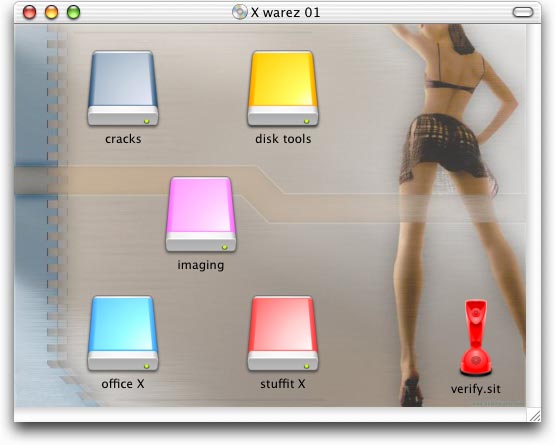 with sub folders, of course..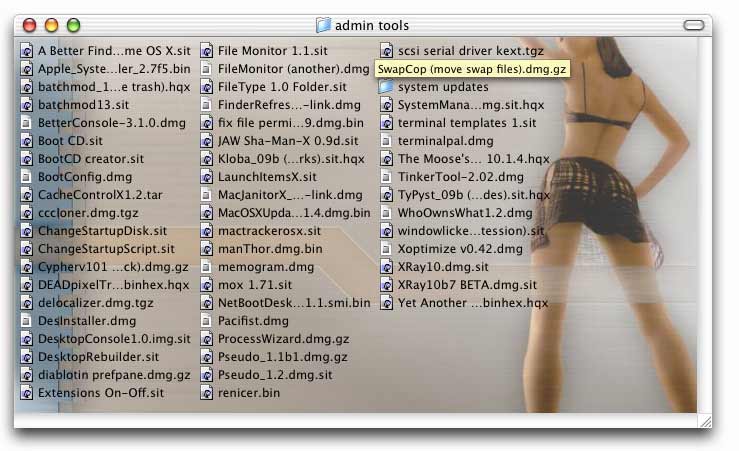 this time with breasts..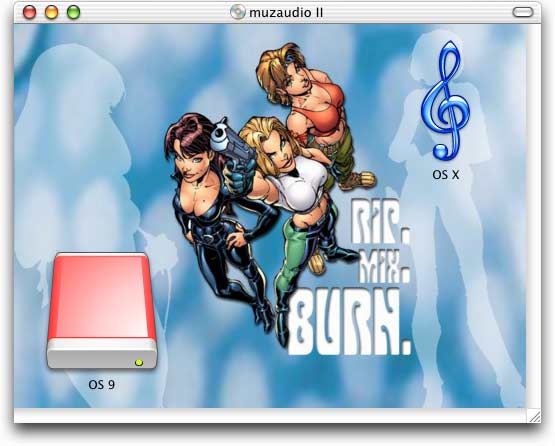 I prefer this to a plain background.
And here's another cool thing about these hot disks..
Notice the first one has a file called "verify.sit" at the root level.. well if you select ALL (all the contents of the drive) and use the stuffit concept command on that baby, you can check all your archives at once that's right, verify the whole disk! in a one-er! <applause>
the technique, step by step..
Prepare the disk.


Build your disk on a temporary partition

The temporary Partition is just a mounted disk image, NOT an actual partition on your hard drive. You create it with Disk Copy, or Toast (see the "Utilities" menu), or whatever. It's just a standard disk image, any decent disk imaging software will do the job. If the target is a CD, make it 690MB or whatever your CD holds minus a few MB for manufacturing errors ;o)


Give the volume a name. This is important. The Finder uses this name to find the image later on.


Make a nice background pic. The ones here are just desktop pictures grabbed off the web (I was specifically looking for pics I could shrink to fit my disks). Whatever you like..


Save the picture.
You must save the picture on your new volume, maybe in the root directory. If the images aren't on the disk, they wont travel with the disk..


Drop the image right into the top folder and call it whatever you like, but do make it a jpeg or a png. I usually use jpegs, because they are the smallest format for photos. My originals look much better than the highly compressed pics you see here (even with high quality levels, jpeg compression's file size savings will be enormous)


Pretty up your folders.
Open the folder you want to customise and hit apple-j (or "Command-J" if you prefer). In the "View Options" dialog, click on the picture button at the bottom and locate your tasty new background pic.

I'm hoping that in the future we will be able to set a whole drive's backgrounds in one go, and have a global "X drive" background, another background for User Disk, etc, but for now you'll have to do them all by hand. It doesn't take too long, especially put the PATH of the image location in the clipboard and just keep pasting it into the "Select a picture" dialog box - something like - /Volumes/mydisk/tasty.jpg


Hide the pics!
There are lots of ways to do this, and a plethora of new "extended info managers" have recently sprung up for OS X. I recommend Setfile in the terminal. Quick and easy.


I guess you could put a "." at the start of the name, but that would be painful in practice. Of course, you don't have to make the pics invisible, but it would look stupid if you just left them lying around, wouldn't it? and the real question is.. Are you a Disk Master?

There's loads of tools out there that will happily do the job, for something with a GUI, try Xray. A useful tool. The excellent Filebuddy also springs to mind.


That's it, now you've got disks to die for!
;o)
cor
---
the "Rip, mix, burn" pic is from
Dangergirl
, & © 2002 J. Scott Campbell. you can see the original
here.
I've no idea who made it into a desktop, but they did a great job. Still don't know who did the first pic.
appendix a: custom icons (son of hot disks..)
No hot disk would be complete without a beautiful custom icon. A picture can speak a thousand words, especially at that point it mounts on the desktop. Anyway, I've had enough questions about this to warrant an add-on, so here it is..
Lots of folks paste transparent images in the Finder and are disappointed when the transparency is lost. Worry not! Creating beautiful semi-transparent custom icons on OS X disks is easy, so long as you have the right tools.
Get
IconographerX
which understands the complexities of the OS X icon, and more importantly, knows how to export icon
families
.
I get my results like this..
create an icon with IconographerX - make it a HUGE icon with a black 1bit mask and a nice grey-shaded 8bit mask. The darkest areas will be opaque, the light areas more transparent. - btw, "huge" as an official apple icon size!


save the icon as a Mac Universal resource. (allow Iconographerx to regenerate the masks if they're out of sync) Quit IconographerX whispering "thanks again bud" under your breath.


consider paying the shareware fee.


get info for your new icon in the Finder and copy.


get info for the disk image in the Finder and paste. (first delete any previous wonky icons)


store your icon file away somewhere. After all, this is your creative work!


You should now see a lovely semi-translucent disk icon! If you still see your old icon or just a plain CD icon, eject the disk image and remount it with Diskcopy/Toast/wheteveryouusedtomakeitwith.
Voila!
Rake about inside the Iconographerx package and open a file called "iconbasics.html" which explains about masks and stuff, this is info you need. Probably you could get it from the built-in help.
notes..
You can put more backgrounds on the disk and store them in the root too, or perhaps in the sub-folders they'll be seen in, imagination is the only limit.