darkstat for OS X
you got stats!
Q:
What is
darkstat
?
A: darkstat
is the excellent open-source network traffic analyzer by Emil Mikulic. It sniffs all the data passing through the machine's network interfaces and presents the results graphically in your web browser. Check out the screenshot.
Q:
Why is this page here?
A:
So that I can spread the word about how good darkstat is. It really is very good.
Trouble was, in the bad old days of Mac OS X, darkstat wouldn't compile without some fussing about, so I put together a package for Puma & Jaguar users, a standard Mac installer with a few extra bits and bobs thrown in (thrown with loving care and attention, I might add - screenshots at the foot of this page), the sort of things we mac users expect.
At the time of writing we brushed-alluminium types are up to Panther; a matured and slick OS with most all the nobs on, and screwed in too. Developers, source-builders and the like have never had it so good, darkstat also compiles with no fuss whatsoever.
I maintain this package because in reality, only a minority of Mac users have the developers tools installed, but that shouldn't, and doesn't stop folks using this superb network monitoring tool for their homes, networks and servers.
In short, this is a place where you can get an up-to-date point-and-click Mac OS X version, and a lot more besides; without all that "messing about in the terminal" stuff.
Q:
Okay, where can I get this package?
A:
Right here..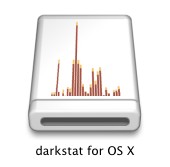 If you have any problems with this installer package, please
do not bug Emil about it, bug me!
Q:
What else do I get?
A:
Aside from the binary itself and its accompanying
man page
, the installer will install a StartupItem (so you
always,
got stats), some neat control scripts, and an uninstaller too, things that you can
click!
Scroll down for pics.
Please do check out the
darkstat website
. There are even a couple of links on there back to here, if you're feeling a bit loopy..
;o)
cor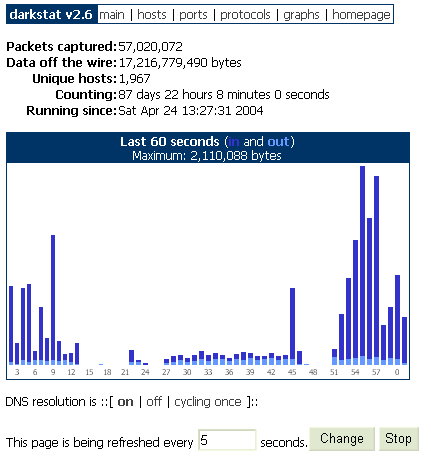 Feeling blue cuz you got no blue?
If you are compiling darkstat on some other platform, but want in on some of this blue action, it's easy enough to achieve. you have two options:
i. edit
www.c
(which is in the /src directory of the source package) altering the colour values therein to whatever your heart desires.
it's all fairly obvious, apart from maybe the bars themselves..
#define _IN "\"#3333CC\""
#define _I_R 0x33
#define _I_G 0x33
#define _I_B 0xCC

#define _OUT "\"#6699FF\""
#define _O_R 0x66
#define _O_G 0x99
#define _O_B 0xFF
remember to edit
all
the values. Or..
ii. download a ready-made blue version of the source file right here..

Also available in "classic" colours..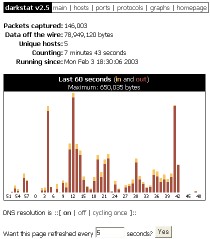 this screenshot is from another machine on my LAN. (a peecee)
You can monitor your mac's network activity even before aqua loads..
if you have
darkstat
installed, clicking on this graph will take you to your own stats!