the±wire is ..
a communication tool for two humans.

Initially conceived as a tool for IT professionals to chat with clients during remote control/tech help sessions, the±wire has proven itself to be supremely useful in all kinds of situations..



at home..


the±wire is perfect for chatting with friends and family members on your home/school/uni network. Data can be easily copied to the clipboard (simply double-click the text), making it perfect for sharing URLs, gossip, etc. And now, with unpatented drag-n-send™ technology, you can share anything you like!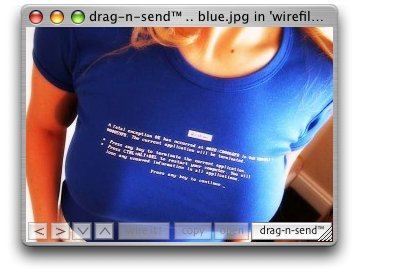 in your business..


the±wire is ideal for any private one-to-one communications across a network. The task of IT support is made significantly easier and workstation down-time reduced.




on the internet..


Tired of having to install some folder full of bloat-ware for the sake of a simple chat? Fed up having dozens of unwanted "visitors" every time you log into MSN or AOL? the±wire won't advertise your "online status".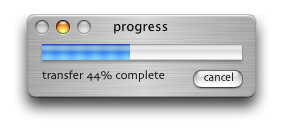 small is beautiful..


It's a truly portable tool. Small enough to fit on a floppy (fit?) or an inbox, yet powerful enough to chat its way across almost any network. If you've got an IP, you can use the±wire.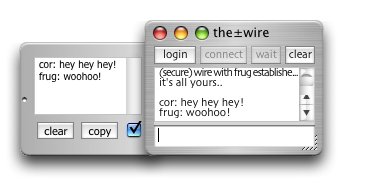 cross-platform capability..


the±wire is available for Macintosh (including classic MacOS), Windows and Linux, with seamless cross-platform chat. the±wire doesn't care which platform you use! (though if it could talk, it would probably recommend you not connect windows machines directly to public networks!)


easy data-sharing..


If it's data, you can share it! simply drag and drop files into the cool drag-n-send™ window and pop them straight to the other end of the±wire. And if it's an image (even a PDF), the±wire will use underlying QuickTime® technology

1

to display it for you. Perfect for swapping those wonky pics the net is so full of, or doing impromptu wee slideshows for your friends. And of course, you can chat while you share.


intuitive operation..


Every aspect of the±wire's user interface has been designed for ease of use. After a minute browsing images with delicious drag-n-send™ window, you'll wonder why no one's thought of it before; bliss in four buttons! And the comprehensive built-in help-tip system ensures there isn't a single control or setting you wont fully understand. Just hover the mouse (see example below) over anything for a full and clear (well, mostly) explanation. Even an adult could use it!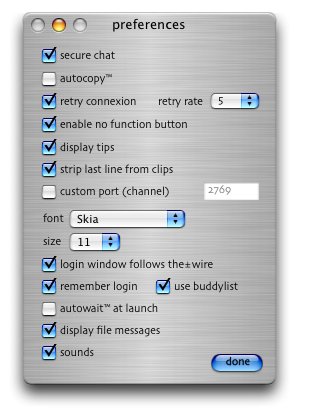 Handy custom settings..


Want to setup an automatic download station? maybe remote launching with autowait ™ facility, whatever; the±wire aims to please. And if you'd like it to do something it doesn't, just ask!



flexibility..


Got yourself a weird network connection, maybe a laptop on a printer cable or something crazy like that? No problem! with its simple socket architecture, the±wire connects where other systems fear to tread!



security..


One-to-one communication should be private, with the±wire, it is. Unlike the other major chat systems, your words don't travel around as plain text that anyone could read. Just check the "secure chat" checkbox!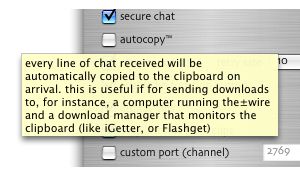 cool features..


Take the new logbox for instance. Now you can edit your chat, removing and reordering lines before sending them off to the clipboard, or dragging elsewhere. Perfect for tech support.

And there's more! drag-n-send™ technology extends into the chat too; any text you drag in (all platforms), links, whatever; goes directly over the±wire. And that's just two of many exciting new features! And let's not forget full unicode

2

support, super-handy autowait™ and autocopy™, unique image "jump" and slideshows! (I'm really getting into this promo stuff today, eh) No! You haven't lived until you've ripped through your favourite hierarchy of images with the drag-n-send™ window! Bang that spacebar! Wire that pic! Share your life! okay, I'll stop now.



free..


That's right! No nagging, no pleading; it's free for personal use! the±wire is about sharing; sharing your files, sharing your thoughts, a one-to-one communication device for two humans.

Goan grab a copy!
;o)
cor

ps.. yes, it's a fun demo sort of thing, but a working one; and works great.

pps. the±wire has a built-in zener card game - you can test your psychic skills over any network! It keeps scores, too.

1: the±wire supports jpeg and png images directly, to view other types, you will need to have QuickTime® installed

2: currently unicode handling of drag-and-drop text on windoze builds is a wee bit shakey, but apart from that, what did the Romans ever do for us?
home
an introduction
download
for Mac, Windows and Linux
f.a.q.
heard it!
itstory
evolution of the±wire
to do..
well, maybe.
hey, thanks!
No, I mean it.